All American Made
All-Weather High Strength Planter Bags
Formulated to withstand fading, mildew, bacteria, fungus and soiling make our planter pots perfect for your inside or outside setting. Because our planter fabric is manufactured here in America under strict US Federal guidelines, it gives you the peace of mind when you harvest the fruits of your labor. Ensuring we source the best material for your planter pot is our priority. 
WHAT SETS US APART
AIR BOTTOM PANEL (ABP)
What sets our planter bags apart from other companies is our exclusive built in rigid polypropylene panel that is 1" thick and strong enough to elevate the weight of the bags contents and allow for the flow of air between the floor and the soil resting above the panel. Over watering is virtually eliminated as any excess water is allowed to drain through the ABP and reduce any potential for root rot and moisture build up that can accumulate. An ABP also allows up to an additional 33% surface area available for Air pruning.
Learn More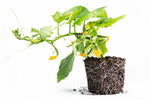 what is
AIR PRUNING
Air pruning is when the roots reach air. The air "burns" or stops the point or end of the root from growing. The root then sprouts and splits, creating two or more smaller new root shoots that have a greater ability to absorb water and nutrient uptake than one large single root. The roots spread out and optimize the planter area but with a series of smaller more vibrant and healthy branches of roots that increase yield and top growth output.
Learn more
stress free novel designs
TRANSPLANT SERIES
THE ONLY WAY TO GROW
GARD'NER SERIES
SUPPORT YOUR PLANTS
GARD'NER STAKE IT SERIES
INCREASES AIRFLOW
TO PROMOTE AIR PRUNING
PREVENTS OVERWATERING
AND ROOT ROT
100% AIR FLOW AND
DRAINAGE FOR ROOT GROWTH
INCREASES AIRFLOW

TO PROMOTE AIR PRUNING

PREVENTS OVERWATERING

AND ROOT ROT

100% AIR FLOW AND

DRAINAGE FOR ROOT GROWTH
RAISE IT UP
HIGH TOP SERIES
SUPPORT YOUR PLANTS
HIGH TOP STAKE IT SERIES